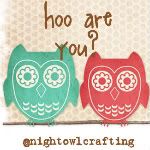 This is my first time participating in this fun little linky party from Night Owl Crafting. You answer 5 questions and then link your answers up here. Click the link to see what everyone else's answers are.
1. Do you wear glasses or contacts, if so for how long?
I have worn contacts since I was about 13 when I finally got rid of my glasses. I have a couple of backup pairs of glasses and think they look super cute but they give me a headache from sitting on my ears. My SIL who works for an eye doctor says you have to wear them for 2 weeks straight to get rid of the headache, but I just can't do it.
2. What was your favorite board game as a kid?
Payday. This was a hard question because i LOVE board games.
3. What is a word that you use all the time?
4. What is your favorite day of the week?
I've always loved Wednesday's!
5. Did you graduate high school from the town you grew up in?
No, I moved across the country from Florida to Utah when I was 14 and graduated there.